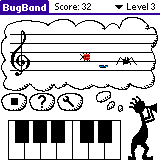 OUR SOFTWARE
NotePad
BeatPad
BugBand
EarTrain
SpinPad
SoundPad
SynthPad
MixPad
AxisPad

miniMusic BugBand 1.2 Buy Now!
BugBand helps you practice sight reading, letter names of notes, piano, guitar, violin and brass instruments. With a practice level for the complete beginner and ten levels of difficulty, BugBand can help anyone improve their sight reading skills. Great for teaching kids the basics of music, helping students get through music classes at school, or anyone learn to play an instrument. Lots of bugs! Lots of fun!
The new 1.2 version adds: Two new instruments (Violin and Trombone), software synthesis for rich audio and a new "boring mode" so you can play with normal note heads as you would see in real printed music instead of the colorful bugs. Our Krikit Audio Engine (or Krikit Synth) can create rich sound on most modern handheld computers (like the Zire 31, 71, 72, Tungsten T, T2, T3, T5, TX, C, E, E2, Treo 600, 650, 700p, Lifedrive, Tapwave Zodiac, Sony Clie UX40, UX50 or TJ35, and others). Oh, and there is a new golden butterfly!
Only $14.95 US Buy Now!
BugBand is included in our Handheld Music Suite or on CD-ROM, both of which are available from our On-line Store.
Download Demo (80k)
The demo only lets you play the first three levels. Otherwise it is full featured so you can see if BugBand is right for you.