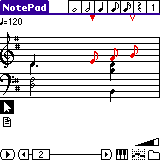 Click for HiRez!
OUR SOFTWARE
NotePad
BeatPad
BugBand
EarTrain
SpinPad
SoundPad
SynthPad
MixPad
AxisPad

miniMusic NotePad 1.4 Buy Now!
NotePad is the perfect sketchbook for composers and song writers; it is great for music students or hobbyists learning to write and read music; it is also an ideal practice tool for singers and other musicians. With four ways to see your songs on screen, it's easy to enter music and edit your ideas. Tools include chords, key signatures, time signatures, tied notes, triplets, inversion, retrograde, MIDI export, and full cut/copy/paste editing.

NotePad 1.4 uses our Krikit Audio Engine (or Krikit Synth) to create rich sound on most modern handheld computers (like the Zire 31, 71, 72, Tungsten T, T2, T3, T5, C, E, E2, Treo 600, 650, 700p, LifeDrive, Tapwave Zodiac, Sony Clie UX40, UX50 or TJ35, and others). The Krikit Synth is polyphonic and multi-timbral so that you can play chords or counterpoint and use multiple instrument sounds with no additional hardware. NotePad also supports models with built-in sound cards (like the Tapwave Zodiac, Sony T, TG, NR, NX, and NZ-series Clies or Handspring Visors with the Beat Plus Springboard module).

Click here for audio samples!

NotePad also includes a free library of sample songs (over two dozen Christmas, Classical and Folk songs), and a free upgrade. Perfect for anyone who likes making music (and that's everyone!).

Still only $29.95 US Buy Now!
Previous Owners: Upgrade Here!

NotePad is included in our Pro Music Suite, our Handheld Music Suite or by itself on CD-ROM. All are available from our On-line Store.

Download Free NoteDemo (216k)
Includes the complete documentation. The demo only lets you work on one song and cannot export songs. Otherwise it is identical to the full application.