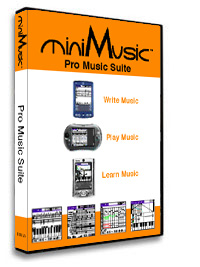 INCLUDES:
NotePad
BeatPad
MixPad
AxisPad
SoundPad
ALSO SEE:
Handheld Music Suite

The miniMusic Pro Music Suite combines all of our professional applications into a powerful mobile workshop for music. Included are our leading NotePad, BeatPad, and SoundPad applications. All three rely on the Krikit Audio Engine for rich polyphonic sound. Sounds designed in SoundPad can now be used in all of our other sequencers to play songs and patterns. Everything you create on your handheld can be exported as standard MIDI files to be incorporated into your projects back at the studio. Never be caught without your music software again!
NotePad lets you work directly on music staff, or step record from an on-screen piano or place notes on a graphic piano-roll. MixPad is a powerful MIDI file player/mixer/viewer. BeatPad lets you interact with the music as it plays, changing and swapping patterns to evolve your music over time. AxisPad turns the touch sensitive screen of your handheld or phone into a flexible control surface. SoundPad offers multiple oscillators, each with its own ADSR envelope, white noise generators and modulation.
Also in the box are additional demos, a quick start guide, and a registration card to ensure you get the latest upgrades and technical support. Bought separately all of this would cost $130 US!
Buy Today for Only $89.95 US
Register for free upgrades of all three applications and free e-mail support!
Click Here to go to our on-line store