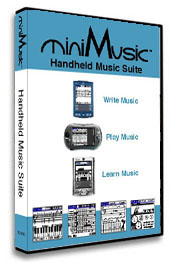 INCLUDES:
NotePad
BeatPad
AxisPad
BugBand
EarTrain
ALSO SEE:
Pro Music Suite

The miniMusic Handheld Music Suite contains everything you need to turn your Palm Handheld into a powerful and portable music toolkit. Included are our leading NotePad, BeatPad, BugBand and EarTrain applications. This is a great software suite for a music student, a song writer or traveling musician. Never be caught without your music software again!
The simple and responsive interface is ideal for the beginner, but all of the tools you'll need to get some serious work done on the road are here too. Songs composed in NotePad can be played on the Palm or exported to your desktop computer. BeatPad lets you interact with the music as it plays, changing and swapping patterns to evolve your music over time. AxisPad turns your handheld or phone into a musical instrument, draw sound on the screen. BugBand helps you learn to read music for many instruments including piano, guitar (right or left handed!), trumpet and tuba. EarTrain trains you to recognize musical intervals--a fundamental skill for learning chords and scales.
Also in the box are additional demos, a quick start guide, and a registration card to ensure you get the latest upgrades and technical support. Bought separately all of this would cost over $100 US!
Buy Today for Only $69.95 US
Register for free upgrades of all four applications and free e-mail support!
Click Here to go to our on-line store