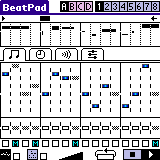 OUR SOFTWARE
NotePad
BeatPad
BugBand
EarTrain
SpinPad
SoundPad
SynthPad
MixPad
AxisPad

miniMusic BeatPad 1.1 Buy Now!
BeatPad is a pattern based sequencer. It provides a simple yet powerful interface for creating musical patterns of various instruments or drum kits, layering these patterns, and performing them on your handheld or exporting them to your desktop/laptop. Using the Palm Platform's large touch sensitive screen, it is easy to see every aspect of a pattern at once and manipulate it with the stylus. Download and try a full featured demo now (see below).

BeatPad 1.1 now uses our new Krikit Audio Engine (or Krikit Synth) to create rich sound on most modern handheld computers (like the Zire 31, 71, 72, Tungsten T, T2, T3, T5, C, E, E2, Treo 600, 650, Tapwave Zodiac, Sony Clie UX40, UX50 or TJ35, and others). The Krikit Synth is polyphonic and multi-timbral so that you can play chords or counterpoint and use multiple instrument sounds with no additional hardware. BeatPad also supports models with built-in sound cards (like the Tapwave Zodiac, Sony T, TG, NR, NX, and NZ-series Clies or Handspring Visors with the Beat Plus Springboard module).

BeatPad lets you save multiple banks of patterns (melodic/bass lines and drums), swap the patterns during playback, chain patterns together for longer loops, change MIDI instruments and channels, and much more.

Only $29.95 US Buy Now!

BeatPad is included in our Pro Music Suite, our Handheld Music Suite or by itself on CD-ROM. All are available from our On-line Store.

Download Demo (308k)
Includes the complete documentation. The demo cannot save or export patterns.