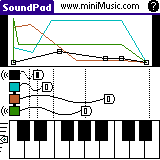 OUR SOFTWARE
NotePad
BeatPad
BugBand
EarTrain
SpinPad
SoundPad
SynthPad
MixPad
AxisPad

SoundPad 1.0 Buy Now!
SoundPad lets you design sounds for the Krikit Audio Engine (or "Krikit Synth"), our new software synthesizer that can generate rich polyphonic, multitimbral sound on most handheld computers. "Polyphonic" means that the Krikit Synth can play several notes or pitches simultaneously (for chords or counterpoint). "Multitimbral" means that it can play those notes using different instrument sounds. Unlike an MP3 player or other music players, the Krikit Synth generates rich audio in real time without a pre-existing recording (no MP3 file!). This lets you create and play music while using very little memory on your handheld.

[Sound Sample](mp3 format, 148k)

We are adding the Krikit engine to all of our music software. It is already built into NotePad so you can edit the sounds used to play back your songs or create new sounds. We'll be adding the Krikit Audio Engine to our other music software in the coming months so that SoundPad can add new and unique sound to all of our products.

Please download SoundPad demo and try it out (if possible, wear headphones for the best experience!). Also try the NotePad demo to hear the variety of sounds that can be created.

Only $19.95 US Buy Now!
SoundPad is also included in our Pro Music Suite or on CD-ROM, both of which are available from our On-line Store.

Download Free SoundDemo (95k)
Includes the complete documentation. The demo only lets you save one sound which cannot be used in other Krikit powered software. Otherwise it is identical to the full application.

Requires a handheld running Palm OS 5.0 or greater with the Palm OS 5 Streaming Sound Libraries. Usually, any OS 5 handheld with a headphone jack qualifies, but there are some Sony Clies that may not work correctly or require a patch. SoundPad has been tested on the Palm Treo 600, 650, Zire 31, 71, 72, Tungsten T, T2, T3, T5, C, E, LifeDrive, Garmin iQue 3600, and Tapwave Zodiac; it is not supported by the original Zire or Zire 21. MIDI input will require a handheld with serial support to interface with MIDI hardware; handhelds cannot currently act as USB hosts.